2012-07-20
First Announcement: 24th Seminar "Activation Analysis and Gamma Spectroscopy" (SAAGAS)
All German-speaking activation analysts, radio-chemists and their colleagues in related fields are invited to Garching for an informal exchange of ideas from 26. to 28.02.2013. Especially the younger scientists have an opportunity to actively participate.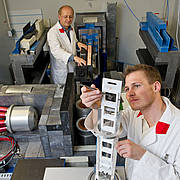 A main focus of the event will be the gamma spectroscopy as an important part of the activation analysis.
Branches:
Neutron Activation Analyis (INAA, RNAA, DNAA, PGAA)

Charged Particle Activation Analysis (CPAA)

Photon Activation Analyis (IPAA, RPAA)

Radio-chemical Methods and Techniques

Complementary analytical Methods (AMS, AAS,IBA, MS, XRF, etc.)
Dates:
1. August 2012: second announcement

from 27.08.2012:

opening of

abstract submission

online

from September 2012: opening of online application

19.10.2012: closing date for oral presentations or posters
Venue:
Garching near Munich, Faculty of Mechanical Engineering at the Technical University of Munich
Organisation:
Research Neutron Source Heinz Maier-Leibnitz (FRM II) and Radiochemistry (RCM) of the Technical University of Munich
For more information, please see the attached flyer.
Flyers and posters are available for download.
Contact with saagas24@frm2.tum.de
---
Files:

SAAGAS24 Flyer3.4 M
SAAGAS24 Poster2.1 M