Category:
General
2012-03-20
Seminar for teachers on electromobility, April 20-22
The popular seminar for teachers in natural sciences in Zwiesel, Bavaria, which is partly organized by Professor Winfried Petry, will focus on electromobility this year. Registration is open until April 13th.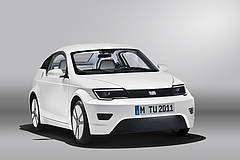 The seminar is held in German language only.
Öl als Energiegrundlage unserer Mobilität steht nicht mehr günstig und ausreichend zur Verfügung. Forscher an der Technischen Universität München (TUM) haben deshalb für die Elektromobilität ein eigenes Fahrzeugkonzept entwickelt. Dieses "MUTE"-Projekt der TUM und verschiedene andere Konzepte der Elektromobilität, wie Batteriespeicher, stellen Wissenschaftler für Lehrer beim 36. Edgar-Lüscher-Seminar in Zwiesel vor.
Von Freitag, den 20. April, bis Sonntag, den 22. April, erfahren die Lehrer mehr über die Grundlagen und Konzepte der Elektromobilität. Organisiert wird das beliebte Lehrerseminar in Niederbayern vom Gymnasium Zwiesel und dem Physik-Department Technischen Universität München.
Anmeldung für alle Lehrkräfte aus Bayern - unabhängig von Schulart und Regierungsbezirk - bis zum 23. März online über das Portal FIBS (Stichwort Lüscher).
Sonstige Interessenten können sich auf der Webseite des Gymnasiums Zwiesel bis zum 13. April anmelden.
Weitere Informationen finden sich im Programm-Flyer des Edgar-Lüscher-Seminars.
---
Files:

flyer luescher 20122.1 M