Category:
General
,
Industry
2011-02-18
New thimble for the production of molybdenum-99 successfully mounted
The construction of the new irradiation facility to produce molybdenum-99 has taken an important step forward. Since the beginning of February, the new thimble has been integrated into the moderator tank of the FRM II.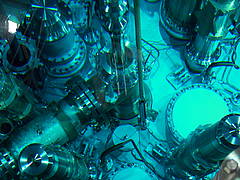 The thimble is part of the facility producing the isotope molybdenum-99, the mother isotope of the medically most important technetium-99m. The thimble is a tube consisting of the long living zircalloy-4, measures nine centimetres in diameter and five metres in length. Starting in 2014, the tube will provide room for the parallel irradiation of 15 so-called targets, which contain the raw material uranium-235.
The new thimble was thoroughly specified, tested several times and finally approved for the usage in the neutron source after its successful qualification. Before the irradiation facility will be operated, it still has to be accredited by the authorities. Furthermore, additional works have to be performed. For example, the detailed construction and production of the insert, which contains the irradiation targets, and the strengthening of the FRM II freight elevator to transport the massive shielding containers for the targets.
More information about the irradiation facility:
---
Files:

moly99-flyer en2.4 M