Category:
General
,
Science
2010-05-27
Cooperation of the neutron sources
In a memorandum of understanding, the directors of the neutron source Heinz Maier-Leibnitz (FRM II) in Garching, Germany, and the future European Spallation Source ESS in Lund, Sweden, defined a far-reaching cooperation.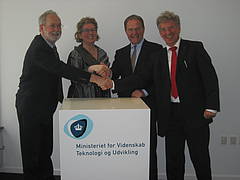 Having started its scientific routine operation in 2005, the FRM II is the neutron source with the broadest spectrum of applications. The ESS being in the design phase will operate by 2019 and be the most powerful neutron source in the world.
The cooperation of the neutron sources will compass the support during the design phase and the construction phase of the ESS, the strengthening of the European user community for neutron sources as well as close collaboration in research and education. Prof. Dr. Winfried Petry, Scientific Director of the FRM II, and Prof. Dr. Colin Carlile, Director of the ESS, signed the document together with the science ministers of Bavaria (Germany) and Denmark, Dr. Wolfgang Heubisch and Charlote Sahl-Madsen, in Copenhagen. Denmark had – in partnership with Sweden - successfully applied for the seat of the 1.5 billion Euro investment ESS in the Øresund region.
The cooperation envisions that the scientists of the Technical University of Munich will support the ESS during the design phase at the neutronics calculations, at the construction of the scientific instruments and the calculation of the detectors. The more, the 1000 scientists, who yearly use neutrons at the FRM II in Garching, will benefit by the cooperation with the ESS: International research projects in energy transport and storage, life sciences or non destructive testing are planned.
Furthermore, both facilities are focussed on industrial and medical applications of neutrons beside science. The ESS will benefit from the FRM II's experiences with industrial and medical projects. Finally, the memorandum of understanding plans exchanges of neutron scientists from Bavaria and Sweden concerning education. Neutron workshops and summer schools are intended.
Prof. Dr. Winfried Petry is looking forward to the cooperation with the neutron source in Sweden: "We have an enormous tradition in designing new instruments for neutron science at the Technische Universitaet Muenchen. Our scientists are eager to support the ESS with their knowledge."
---