Category:
HEIDI
,
Instruments
,
Science
2010-04-20
Discovery of monochiral helix in neodymium ferroborate
By means of investigations performed at the hot single crystal diffractometer HEiDI at FRM II, Dr. Marc Janoschek demonstrated that the magnetic structure of the multiferroic material neodymium ferroborate is a monochiral magnetic helix.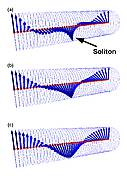 He recently published his results in the scientific journal Physical Review B. Janoschek investigated the single crystal as a part of his thesis under the supervision of Prof. Dr. Peter Böni (Physics Department E21 of the Technische Universität München). A crucial part of the research project has been carried out at the instrument HEiDi at the neutron source FRM II in cooperation with the instrument responsible Dr. Martin Meven. These measurements have only been possible due to the short wavelength of 0.55 Ångström available at HEiDi and the high intensity of the neutron beam. This allowed Janoschek to analyze the positions of the atoms and the magnetic structure with high precision. For the determination of the magnetic structure the thirty-year-old used (in cooperation with the Paul Scherrer Institut in Switzerland) a novel method with polarized neutrons, namely 3D polarization analysis. 3D polarization analysis allows the determination of the magnetic structure in all three dimensions. The measurement device necessary for this method, called MuPAD (Mu-metal Polarisation Analysis Device) was developed and constructed by Janoschek during his master thesis at Technische Universität München. At the FRM II MuPAD can be used on the instruments MIRA and POLI.
In the case of neodymium ferroborate the scientists of Technische Universität München and Paul Scherrer Institut discovered a rare magnetic structure, namely, a monochiral helix. Commonly helices exist simultaneously in a right- and left-handed version. In a monochiral helix only one of the two versions is realized. This is a rare observation. In fact, previous to the study only two other realizations of magnetic monochiral helices had been identified, namely MnSi and Ba3NbFe3Si2O14.
The magnetic helix in neodymium ferroborate has a further interesting aspect to it. It transforms into a magnetic soliton lattice when the temperature of the material is changed. A magnetic soliton lattice is the distortion of a periodic magnetic structure by a nonlinear force (see figure). In neodymium ferroborate the soliton lattice develops without the application of external forces, the material creates the force itself when the temperature is changed.
This discovery could contribute to the development of new spintronic devices based on magnetic chirality.
Publication:
Single magnetic chirality in the magnetoelectric NdFe3(11BO3), M. Janoschek et al, Phys. Rev. B, 81, 094429 (2010)
DOI:10.1103/PhysRevB.81.094429
---