Category:
Science
2012-01-11
Isar looks for Isère - New Newsletter of the FRM II
Offer Isar look for Isère: Elisabeth Jörg-Müller in Garching successfully changed her job for three months with Eliane Joly in Grenoble. The whole story and many more are in the newest edition of the FRM II News.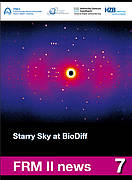 From Garching at the river Isar to Grenoble at the river Isère: Elisabeth Jörg-Müller and Eliane Joly undertook his exchange between the Institut Laue-Langevin in France and the research neutron source FRM II in Germany at the end of the year 2011. An interview in the news edition of the FRM II Newsletter reveals, how they got the idea and what experiences they made during their exchange.
Furthermore, the FRM II News reports about renewals at the instruments after the long maintenance break, a world record at the instrument PGAA and many other news.
Link: FRM II News No. 7
---