Safety is our top priority
As a nuclear facility, the FRM II meets the highest safety standards. The operator (TUM) demonstrates compliance with these standards, among other things, in almost 2,000 recurring inspections carried out annually by the responsible supervisory authority (Bavarian State Ministry of the Environment and Consumer Protection, StMUV). The experts consulted in accordance with § 20 AtG ensure an independent assessment of the test results.
These include the inspection of all important components, such as core cooling, the stability of buildings and safety-relevant facilities under all conditions to be assumed, the monitoring of emissions and, last but not least, the control of access for persons and material.
The safety concept also includes a training and further education program for all employees that has been and further training program for all employees, as well as an explicit certificate of specialist knowledge for personnel with special responsibility for nuclear operations.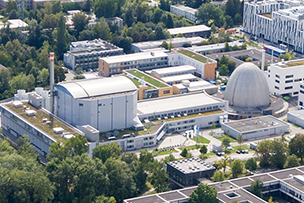 Radiation protection continuously monitors the gaseous or liquid radioactive substances released via the chimney exhaust air and waste water.